Yolanda Cash Jackson (JD 90) Delivers Commencement Address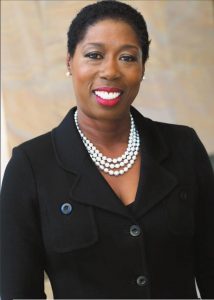 Yolanda Cash Jackson (JD 90), Shareholder at Becker & Poliakoff, delivered the UF Law Spring Commencement Address on Friday, May 17, 2019 at the Stephen C. O'Connell Center. The event was livestreamed. 
Yolanda Cash Jackson from the UF Law Class of 1990 is among the power elite when it comes to lawyer-lobbyists in our State Capitol. Her nontraditional path to becoming a lawyer who influences state policy at the highest levels is a model for new lawyers seeking meaning in their law practice. Ms. Jackson knows political leaders by their first name and changes people's lives through institutional and programmatic initiatives.
Ms. Jackson learned early in her career about the shared benefit of giving back to the community. She learned how community involvement is more than helping your community; it's also about helping yourself. Through her active involvement in organizations as diverse and prestigious as the University of Florida Foundation, the Levin College of Law's Law Center Association Board of Trustees, the Orange Bowl Committee, Delta Sigma Theta National Social Action Committee, Urban League and the National Bar Association, Ms. Jackson has established a reputation for fairness, integrity, dedication and trust. She strives to exemplify those profound qualities every day working on behalf of her clients, many of whom have been with her for more than 10 years. Clients rave about her commitment to client service and praise her effectiveness in Tallahassee.
Ms. Jackson's nontraditional path took her through many areas of law, including family law and litigation, before she found her passion in lobbying and policy. The constant presence in her career, however, has been giving back through non-profit and service organizations. Although her awards are too numerous to mention, Ms. Jackson has been recognized by national organizations such as the National Bar Association for Outstanding Service and by local organizations including the Junior League. Her community commitment knows no boundaries. The Miami Herald named her one of only 50 statewide influencers for 2020 election coverage, and the Daily Business Review named her a "Most Effective Lawyer" in 2018. The Children of Inmates inducted her into the League of Superheroes, the only non-elected, non-government official to be inducted for the third time.
Last but certainly not least, Ms. Jackson has risen to the highest ranks in her own law firm, serving as one of only seven shareholders who form the Becker Management Committee, charged with overseeing all aspects of firm policy, operations and strategic growth. Becker is a multi-practice commercial law firm with attorneys, lobbyists and other professionals in offices throughout Florida and the East Coast.
Ms. Jackson has leveraged her strengths and stayed true to her ideals to create a personally meaningful and civically impactful legal career that adds tremendous value to her clients, her firm and her community.
For more information about commencement logistics, visit: https://www.law.ufl.edu/commencement.