International Commercial Arbitration Moot (ICAM)
International Commercial Arbitration Moot (ICAM)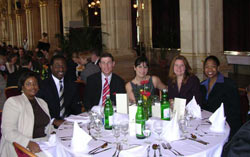 What is the Moot?

Each Spring the University of Florida Levin College of Law sends a team to compete in the Willem C. Vis Moot in Vienna, Austria. Over a 7 day period the team competes with teams drawn from over fifty countries and two-hundred law schools.
What is the subject of the Moot?
The competition focuses on the United Nations Convention on Contracts for the International Sale of Goods (CISG) and procedural issues related to international arbitration. A problem is released in the fall. Teams prepare arguments and write briefs on both sides of the issue before convening in Austria for the oral competition.
How do I get on the team?
The team is composed of students who first take a course on the CISG. The course is offered for credit, typically in the Fall and occasionally in the summer. As part of the course, all students prepare a brief that is responsive to that year's problem. In late November an oral competition is held and a team of four to six students is selected by the faculty members in charge of the course. All students who satisfactorily complete the course receive credit, whether they are chosen for the team or not. The team members then write the briefs required for the competition. Throughout the Spring, team members refine their arbitration skills, benched by faculty members, and participate in domestic moot competitions. Although all team members normally travel to these competitions and to Vienna, decisions about who will argue in any given competition are made by the faculty members in charge of the course.
Who should I contact for more information?
Contact professor Jeffrey Harrison at harrisonj@law.ufl.edu.
Links: