Expanded printing among new technology services for students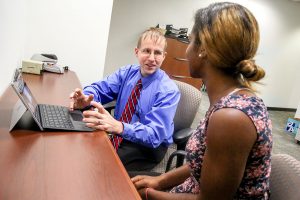 UF Law Technology Services department has added and revamped its services to better support law students.
The office in 323 Holland Hall can help alleviate problems students may be having with software or technology and works with UF to provide resources for students to supplement learning in the classroom.
Students are welcome to stop by between 8 a.m. and 5 p.m. for assistance, and the department is also allotting student-dedicated hours on Tuesdays and Thursdays 2 – 5 p.m. In addition, UF Law Technology Services is working with UF to provide:
Printing on the first floor of Bruton-Geer Hall and in the law library. The first 250 pages are free and additional pages are 10 cents each. An additional 250 pages of free printing is also available from student government on the second floor of Bruton-Geer Hall. Microsoft Office suite, Office 365, Skype and One Drive are free to download at http://www.it.ufl.edu/gatorcloud/office-365-cloud-services/.
More than 80 virtual applications are free to use at apps.ufl.edu, including those needed for e-discovery and research.
Contact UF Law Technology Services for problems with Symplicity CSM System, Examsoft for exams, Wi-Fi access, off-campus access to campus resources such as shared drives or library data systems, or to check if your laptop meets UF Law laptop requirements. Email help@law.ufl.edu, call 352-273-0750 or visit 323 Holland Hall.