Scholarly conference launches partnership between UF and University of Havana
By Alisson Clark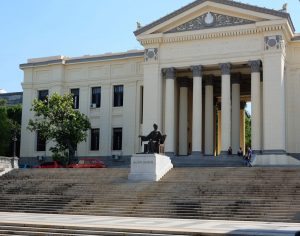 The blast of heat that greeted the delegation stepping off the plane in Havana was familiar, but the occasion was unprecedented: the University of Florida's first academic conference in Cuba, jointly hosted by the University of Havana.
Many of the 24 UF professors, students and alumni on the trip – the largest UF delegation ever to visit Cuba – were touring the country for the first time. Three were returning to the place where they were born. Others had been doing research there for decades, long before the flood of American visitors began streaming in after diplomatic relations resumed in 2014.
Over the next two days, UF Law professors and Dean Laura A. Rosenbury would join counterparts from the University of Havana to present research, identify opportunities for collaboration and learn about each other's legal, social and economic systems.
"One of the things that was very important in this conference was that the relationship be a true collaboration," said Lyrissa Lidsky, Stephen C. O'Connell professor and UF Law's associate dean for international programs. "This wouldn't have been possible a year ago."
The conference came two months after President Barack Obama's Cuba visit, the first by a sitting U.S. president in 88 years. The presidential visit and new connections like the UF-University of Havana conference arose after the Obama administration re-established diplomatic and some economic relations between the two countries. The December 2014 agreement with Cuba broke with more than 50 years of U.S. policy.
Lidsky, who spearheaded organization of the conference, explained that its themes were chosen based on areas where UF's expertise was of particular interest to Cuban academics. These themes ranged from organic agriculture to foreign investment.
The UF group touched down on May 8, days after the arrival of the first U.S. cruise ship to visit Cuba in decades. As they boarded one of the air-conditioned, Chinese-made tour buses now ubiquitous around Havana, former Center for Latin American Studies Center Director Carmen Diana Deere pointed out changes she noticed.
"Even two years ago, these buses were uncommon," said Deere, who has been working with Cuba since the 1980s. "Now they're all over."
UF International Center Dean Leonardo Villalón was glad to have made it as far as the bus. On his last trip to Cuba with UF, a missing sticker on his Cuban passport sent him back to the U.S. without ever leaving Havana's José Martí International Airport. The Cuban government doesn't recognize U.S. citizenship of those born in Cuba, so Villalón, along with UF Law professor Berta Hernández-Truyol and student Reina Saco (3L) faced a different set of rules, effectively becoming Cuban citizens for the duration of their stay.
As the UF group left the airport, they passed a billboard declaring the U.S. embargo the longest genocide in history. It was a hint of the conflict between the two countries that stretches deep into the Cold War.
The communist government's human rights record has made the diplomatic, commercial – and now academic – opening to Cuba controversial in the United States. But faculty, students and alumni weren't there to debate foreign policy. They were there to continue building an academic partnership for the benefit of both universities – and, they hoped, their respective nations.
"UF has a significant role to play in Cuba and the Caribbean, and this is part of that," said alumnus Stephen N. Zack (JD 71), a partner with Boies, Schiller & Flexner, LLP in Miami, and former American Bar Association president who supported the conference through the Stephen N. Zack Endowment. Zack was born in Michigan but moved to Cuba with his parents as a baby, returning to the U.S. after the 1959 revolution.
Presentations by Cuban, U.S. and Brazilian academics at the Conference on Law & Policy in the Americas covered comparative legal systems and legal education, women and society, family law and mediation, labor law and social security, international trade, agriculture and sustainability. Several UF professors delivered their talks in Spanish. The proceedings will be jointly published by UF and the University of Havana – in English and Spanish – in the Florida Journal of International Law.
Rosemary Barkett (JD 70), a former 11th U.S. Circuit Court of Appeals judge and an arbitrator on the Iran-U.S. Claims Tribunal, spoke during the comparative legal systems session. She called the conference "an absolutely essential first step" that could allow UF and University of Havana faculty and students "to explore more deeply our similarities, our differences and how we can both improve our justice systems to achieve our common goals."
It was that focus on shared goals that has set UF apart from other universities hoping to work with Cuban academics, according to Marta Moreno Cruz, dean of the University of Havana law faculty.
"We've had relationships with other universities, but it is the University of Florida with which we have developed a relationship of cooperation," she said through Hernández-Truyol, who served as translator.
For Rosenbury, building on UF's longstanding connection with Cuban academics made sense given the college's strategic focus on international programs in Latin America and the Caribbean – and its history of cooperation with Cuban lawyers and law students going back to the 1920s. At a deans' meeting at the conclusion of the conference, Rosenbury and her counterparts identified areas for long-term collaboration, including environmental and agriculture regulation as well as the regulation of foreign investment. Along with launching co-authored research and looking ahead to student exchanges, Rosenbury hopes to increase alumni involvement in the partnership.