UF Law recognized at The Florida Bar convention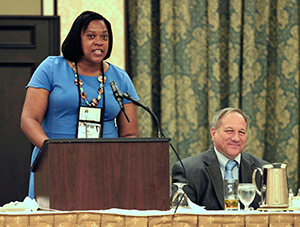 The University of Florida Levin College of Law was recognized June 28 with the Equal Opportunities in the Profession Award at The Florida Bar Equal Opportunities Law Section Annual Luncheon in Boca Raton. Rachel Inman, Associate Dean for Student Affairs, made remarks at the event on behalf of the college. Harley Herman (JD 78), pictured at right, nominated UF Law for its Cuban-American Lawyers Program held in the 1970s.
In 1973, the Florida Supreme Court authorized law schools to offer legal instruction to selected Cuban-American lawyers. The Cuban-American Lawyer Program at the Holland Law Center was the only of its kind in Florida, and prepared these attorneys skilled in civil law to practice in America's common-law system. For 21 months, UF Law professors traveled to Miami to teach classes to the Cuban lawyers who resided in South Florida. Those in North Central Florida attended a similar program on the Gainesville campus. Those who successfully completed the program were certified to the Florida Board of Bar Examiners.
"The leadership demonstrated by the University of Florida College of Law through its participation in the Cuban-American Lawyers Program had a tremendous impact on the diversity of The Florida Bar and the service provided to the residents of the state of Florida," Inman said. "Individuals who participated in this program were noted criminal and civil attorneys, judges, law professors and congressmen. This program allowed the participants an opportunity to return to the legal profession and to provide service to the large Cuban-American population of our state."
UF Law is planning an event to commemorate the program on a date to be determined in the 2014-15 academic year and will share details as they become available.