The Importance of Finding Friendship in Law School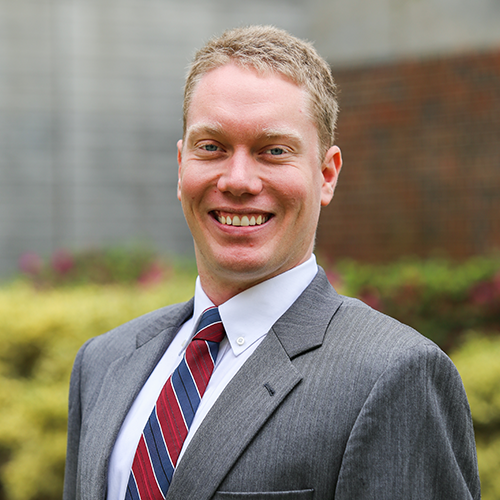 Name and Year: Daniel O'Byrne (JD 20)
Hometown: Jacksonville, Florida
Undergraduate Institution: B.S. in Political Science and History
Law School Involvement: Student Recruitment Team Member, 1L Section Representative; Federalist Society and Criminal Law Association.
Believe it or not, I've been asked "Why UF Law" more during my 1L term than during my law school application process over a year ago. After one full semester, I understand why I keep getting asked. Simply put, I keep getting asked because I know the answer.
Do you remember your first day of kindergarten? You were probably nervous, even though you didn't fully comprehend why. You walked in. For the first time in your young life, you were alone. The teacher began teaching and you were still nervous. You got to draw and color and finger-paint and you were STILL nervous. But, at some point during the day, whether it was lunch, recess, or naptime, you made a friend. Do you remember that friend? Do you remember how that friendship started? Do you remember what it took for you and that other person to become friends? It probably didn't take much work, right? Simple, genuine, and hopefully life-long friendship, after almost no effort.
Of the many outstanding experiences UF Law offers, the least talked about, in my opinion, are the friendships. After kindergarten, it becomes harder to make friends. Throughout elementary school, high school, and college, the classes get bigger, the students have less in common, and complexities are introduced that convolute friendship. When was the last time you were able to walk into a room of strangers, look around, and confidently profess that everyone in that room was your friend? Kindergarten? Maybe even never? I promise you, at UF Law, you won't even need a second glance.
When I was applying, one of the biggest selling points from the university was "The Gator Nation." Even though I graduated from Florida State (shh…don't tell anyone), I can still attest to the reality of the phenomenal networking opportunities we lucky few here at UF Law benefit from every day. Between altruistic alumni, considerate faculty, and selfless staff, there is neither time nor resources left for want for us Baby Gator Lawyers.
The one thing they don't tell you, however, is when that impenetrable network is created. I'm here to tell you, the Gator Nation forms on your first day of orientation. That first day, you make friends that you are guaranteed to know for the rest of your life. Friends that will help, support, and, challenge you through assured highs and inevitable lows. Friends from that first class to 2 a.m. impromptu study sessions to Moot Court try-outs to graduation to practice in the workforce and everything in between.
The most significant resource I have found at UF Law that I could not have found anywhere else are my friends. UF Law has already provided me with a network of classmates that I can count on, rely on and trust. This once-in-a-lifetime network had been right here, waiting for me, this whole time. Simple, genuine, and life-long friendships, after no effort. Where else can you find that?