AMC Network Extern Bobby Desmond Describes Life at UF Law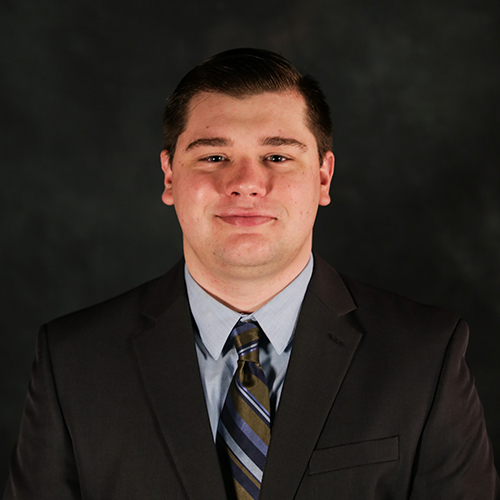 Name: Bobby Desmond (JD 18)
Hometown: Daytona Beach, Florida
Undergraduate Institution: University of Florida, B.S. in Telecommunications and B.A. in Criminology & Law
Law School Involvement: Managing Editor of the Journal of Technology Law and Policy, Former Vice President of the Entertainment and Sports Law Society
As a first-generation college student from a low-income family, I was not like the many other law school students that have dreamed of becoming a lawyer ever since being asked "what do you want to be when you grow up?" in elementary school. I came to the University of Florida as an undergraduate student, hoping to build a career in the media industry. I spent my free time writing television reviews for the Independent Florida Alligator, directing an online sitcom with my peers at the College of Journalism, and working as a radio personality at Kiss 105.3 FM. I knew what industry I wanted to work in, but I didn't know what exactly I wanted to do within that field, until I took courses like Mass Communication Law and Telecommunication Law & Regulation. Upon realizing the legal implications of news and entertainment piqued my interest, I picked up a second major in Criminology & Law and decided to pursue a J.D. degree.
In choosing a law school, I narrowed down my options to 11 schools based on national ranking, geographic preference, course options and extracurricular opportunities. I had been accepted to almost all those schools, but UF stood out above the rest for a number of reasons:
First, UF Law has prestigious professors that teach a broad range of courses. Students can choose to get a comprehensive education on a variety of topics, or they can dedicate a portion of their schedule to focusing on a specific area of the law. Personally, I was most drawn to courses that are inherent to the entertainment industry: from media law and the First Amendment, to classes that honed transactional and negotiations skills, and doctrinal classes that taught the fundamentals of business and intellectual property.
Second, UF Law offered numerous extracurricular activities like the Entertainment & Sports Law Society and the Journal of Technology Law & Policy, where I could gain real world experience and connections directly related to my dream job.
Finally, Gainesville seemed like it would be the most conducive city to my future successes, especially since UF Law was the most financially feasible choice. I lived in Gainesville for four years and knew I would be happy here for three more. This true college town has everything you need to succeed in law school, including plenty of quiet libraries or hammock-worthy trees to study in and plenty of restaurants, parks, stores, and fun activities where you can take a break from studying. In addition to a generous scholarship, UF Law's relatively low cost of attendance allowed me to earn a J.D. without breaking the bank and gave me the fiscal leeway to be able to afford summers externships out of state.
Over the past two and a half years, I have come to realize that these factors, while undeniably important, are not what makes Levin the best law school around. Ultimately, I left one factor out of my analysis: the personality and dedication of the faculty and staff. Without their help, guidance, and unrelenting support, I would not be the student I am today.
As a 1L with big dreams and little clue how to make them reality, the Center for Career Development aided me in drafting a cover letter and resume worth reading, and my 1L professors wrote shining letters of recommendation on my behalf. Without their assistance, my materials would have been ignored and buried under the thousands of other applications to the popular internships I desired. But because I had applicable experience in the industry and I had ensured my application was the best it could be, I accepted a legal internship with America's Public Television Stations at PBS in Washington, D.C. In this role, I worked closely with the General Counsel to research, draft, and edit comments filed in rule-making proceedings at the Federal Communications Commission to promote the interests of public television and its viewers. I also worked directly with the CEO on contractual issues that might arise in his initiative to license member stations' programming to international networks. And I gained valuable experience in government relations and lobbying, while drafting legislation and speaking with members of Congress about the benefits of that legislation.
After my 2L year, I spent the summer in New York City as a legal intern at AMC Networks, after a professor introduced me to a Vice President in their legal department. In this role, I drafted contracts for nearly every aspect of the cable television company, including programming acquisitions, hiring talent and casting agencies, forming production companies, licensing copyrights and trademarks for merchandising opportunities, and more. I also worked extensively on drafting new employment policies to protect the company's trade secrets and unreleased programming from leaking and hacking. Further, I learned the skills necessary to advise other departments on potential legal issues that arose. For example, I assisted the marketing department in negotiating an agreement with a guerilla marketing agency to promote the new season of Preacher, while limiting the company's potential legal liability. I also informed the marketing department of applicable right of publicity laws that could be invoked by the subjects of an upcoming documentary program.
I would not have been offered either of these positions without the professors and staff at UF Law taking a specific interest in my employability. But more importantly, the professors and staff have continuously shown an unbeatable interest in my academic and personal success. Recently, my mother suffered a debilitating stroke that left her unable to speak or to be left home alone. Thankfully, my professors and the law school staff have taken substantial measures to assist me during this difficult time as I finish my last year of law school while caring for my mother. Their continued interest in my success as a law student and future lawyer leave no doubt in my mind that attending UF Law was the best possible decision I could have made.