Dean Rosenbury Shares Her List: What Every Young Lawyer Should Know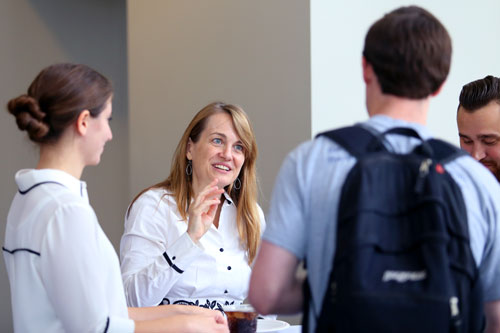 We talk a lot on this blog about what it takes to get into law school. This week, we're looking at the bigger picture, what character traits does it take to make it in the legal profession? Dean Laura A. Rosenbury shares her list of the "top five" things every lawyer needs to know and remember.
1. Law is not a solo pursuit. Throughout your career you will be working with senior staff, co-counsels and other people in your local community. Even if you are working at a very small firm, without co-counsel, you will need to rely on people in your local community – from the bar association or the inn of court – for advice and assistance. These groups and professional connections will be very useful to you.
2. There is a lot of talk about the skills law students need to know to be practice-ready. But the most important skills are interpersonal skills – teamwork and networking.
3. Embrace an ethos of excellence. Practicing law requires rigor, attention to detail – no typos! –
and thoughtful strategy.
4. But don't let the perfect be the enemy of the good. Lawyers must strive for excellence while also meeting deadlines and taking risks. We can't wait to develop the perfect strategy. We often just have to try something and then adjust.
5. Pay it forward. You will be given so much as a law student and as a junior lawyer. Start giving back by paying forward immediately. As a 2L you can mentor 1Ls. As a 3L you can prep 2Ls for their summer associate positions. Once you've graduated and passed the bar, you can give back to UF Law by hiring our students, participating in career panels and moot courts, and donating money for student scholarships. You can give back to the legal community by becoming actively involved in bar associations and inns of courts. And you can give back to your larger communities through pro bono work and service on non-profit boards. As a lawyer, you are always learning and you are always paying it forward.
To connect with Dean Rosenbury find her on Twitter @UFLawDean and on Instagram @uflawdean.