Jessica Gaudette-Reed (JD 20) Offers Advice on How to Pick the Best Law School
Name and Year: Jessica Gaudette-Reed (JD 20)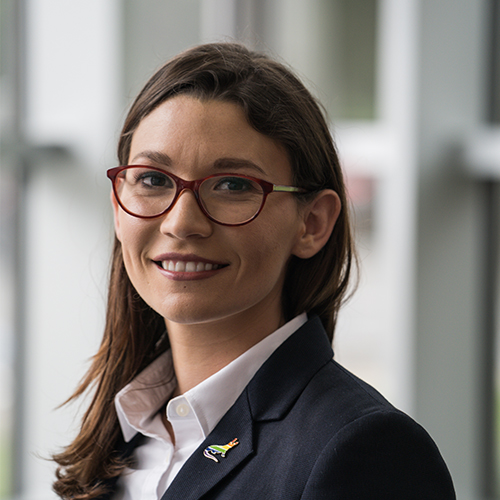 Undergraduate Institution: B.A. in History with a Certificate in African Studies, cum laude, Portland State University
Law School Involvement: President, OUTLaw; Vice President, UF Law Democrats; General Editor Florida Journal of International Law
Community Involvement: LGBT Bar Association Law Student Congress Florida and Puerto Rico Chair; Mercy Corps Volunteer Transcriptionist
Choosing a law school was hard. Everywhere I looked, there was "advice" about how to select the best school: rankings, cost of attendance, alumni, job placement. It was overwhelming, and I didn't feel like the information was geared towards first-generation students who can't always turn to their parents for first-hand knowledge.
Finally, I reached out to the chair of the history department at Portland State University. He was a former attorney. His advice: look to highly ranked state schools, compare scholarship packages, and find somewhere you can take advantage of for the next three years, both intellectually and personally.
That is what led me to UF Law. Not only were the admissions personnel patient and generous with their time, they were supportive of my background as a first-generation college student and a female veteran. They also openly embraced my identity as a lesbian. Their openness and willingness to help students navigate the challenges presented by law school sold me. Finally, the rich culture of inclusion within the student body made UF Law feel like home, even though Introduction to Law School and the Profession was my first day on campus.
Since coming to UF Law, I have been involved with OUTLaw, the LGBTQ+ student organization. This year, I will serve as president along with five other executive board members who bring a wealth of experience to the club. Some initiatives that we are hoping to expand upon or start this year include mentor/mentee pairings, pursuing gender-neutral bathroom signage at some locations on the law school campus, expanding our outreach to alumni, providing more support and access to diversity fellowships and scholarships for LGBTQ+ identifying students, and partnering with the LGBT Bar Association through their Law Student Congress Affiliate Program.
Finally, we are expanding our coordination efforts with other minority student groups on campus, such as the Black Law Students Association (BLSA), the Asian Pacific American Law Students Association (APALSA), and the Latino Law Student Association (LLSA) so that we can support all students in a more holistic way that recognizes the intersectionality of their experiences. Part of this initiative is this year's theme, "Together We Are Better," created by Alysia "Aly" Mariani (JD 20), LLSA president, which kicked off this year's Minority Bootcamp event for incoming 1Ls.
This year will present some exciting opportunities, as I am serving as both the president of OUTLaw and the Florida and Puerto Rico Chair for the LGBT Bar Association Law Student Congress. The partnership will allow better communication between LGBTQ+ law school organizations across Florida and Puerto Rico. This means students will have access to more national LGBT Bar resources and can participate in similar events across the region, which will help build a sense of community and provide additional funding for school or city-specific initiatives.