Standing Together Amidst Tragedy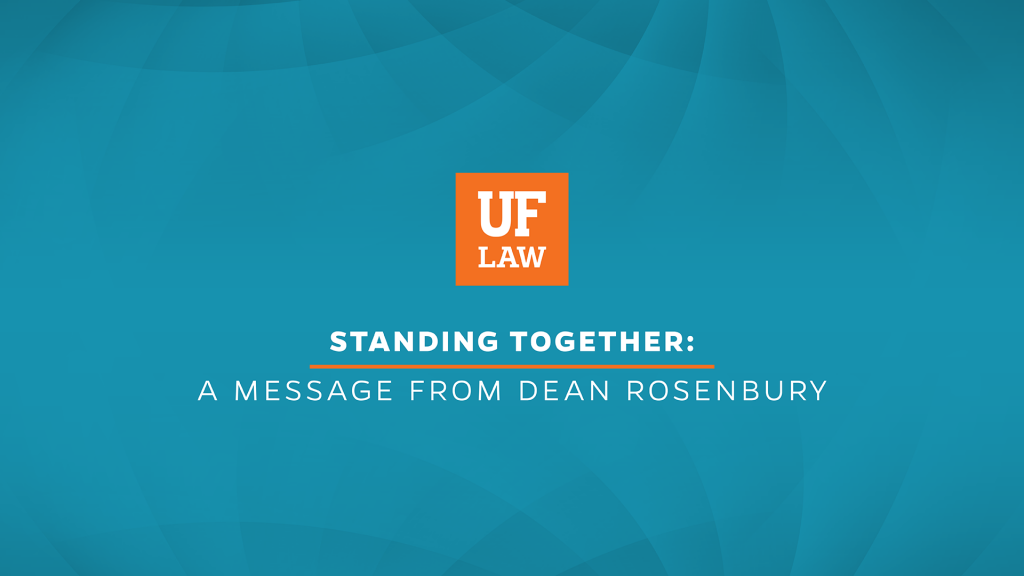 Dear UF Law Community,
The last week of May brought distressing news. The death toll from Covid-19 within the United States exceeded 100,000. Over 40 million people in the United States have now lost their jobs. Yet again, an unarmed African-American man, George Floyd, was killed by a Minneapolis police officer, following other tragic deaths of unarmed African-American men and women throughout the United States over the past weeks (and months, years, and centuries). We also witnessed a white woman in New York City call the police when an African-American man simply asked her to follow the law.
Throughout the history of our nation, law has been used both to enforce inequality and fight for social justice. The past week confirms the ongoing reality of that fact. Law supports the structures that produce disparate death rates on the basis of race, whether at the hands of the virus or the police. Law supports the economic inequality that makes lay-offs and furloughs so perilous for many individuals and families. At the same time, law provides an important vehicle for protesting and challenging these structures and inequalities.
As a law school, we condemn racism and other social inequalities, and we endeavor to provide the tools that will produce lasting change. We seek to educate the next generation that will promote and improve the rule of law, defend the Constitution, and protect the most vulnerable throughout our society. Much work remains to be done. Past generations have made progress, but last week reveals that future generations – our current and future students – will need to lead transformations of the rule of law with creativity and tenacity.
The Levin College of Law will do everything possible to support our students, staff, and faculty in this important and daunting task. We also stand in solidarity with our students, staff, and faculty of color and seek to support all members of our community as we live through these tragedies.
For students, we will offer an open forum to discuss these issues on Wednesday, June 3, at 5 pm. This is the time period of our regular Wellness Wednesday, and this week will be devoted to discussing the tragedies of the past week. Staff and faculty are also encouraged to attend in support of our students.
For staff and faculty, we will host an open discussion on Friday, June 5, at noon to come together and provide support for each other. We will also discuss what we might do as a community to effect lasting change.
Finally, so many of our faculty members have long been engaged in scholarship and advocacy designed to promote the rule of law, defend the Constitution, and protect the vulnerable. I thank the faculty for continuing to do so, and I stand ready to promote your work on these issues and to convene fora for ongoing discussions of your work.
The last week was distressing not because it was unique but because it provided a stark snapshot of longstanding inequalities throughout society. The pain of those inequalities may persist but so will hope for the future. I hope we will draw strength from our community at UF Law and support each other in every possible way.
LAR